Trade Show Services
You get it ready and we'll get it to the show!
Road cases, trade show booths & exhibits require special attention by a dedicated professional. Scheduled move in and pull out dates, as well as detailed instructions regarding venue location specifics need the careful attention to detail that JOYCE EXPEDITING provides.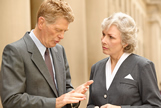 Each trade show venue is different, each have their own rules and requirements that must be respected.
Our event logistics service provides for a dedicated individual to closely monitor the details of your event. We will help you establish transit plans and assist with arrangements at any location, as you require. Advanced planning is important. Communication of these detailed plans to our operations department can be done directly via the telephone, via fax, email or through one of our dedicated coordinators assigned to your project. Advanced planning is preferred;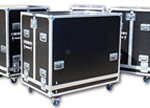 however last minute shipping has been our specialty for better than four decades. You get it ready and we'll get it to the show!
Hotel deliveries for trade shows can present their own set of specific requirements. The events logistics needed here are familiar to our coordinators. We will communicate with the hotel staff and your people in the field to assure that all goes well. Detailed contact names and numbers are required for these special delivery arrangements.
Call Toll Free, 24 Hours a Day 1-800-569-2333